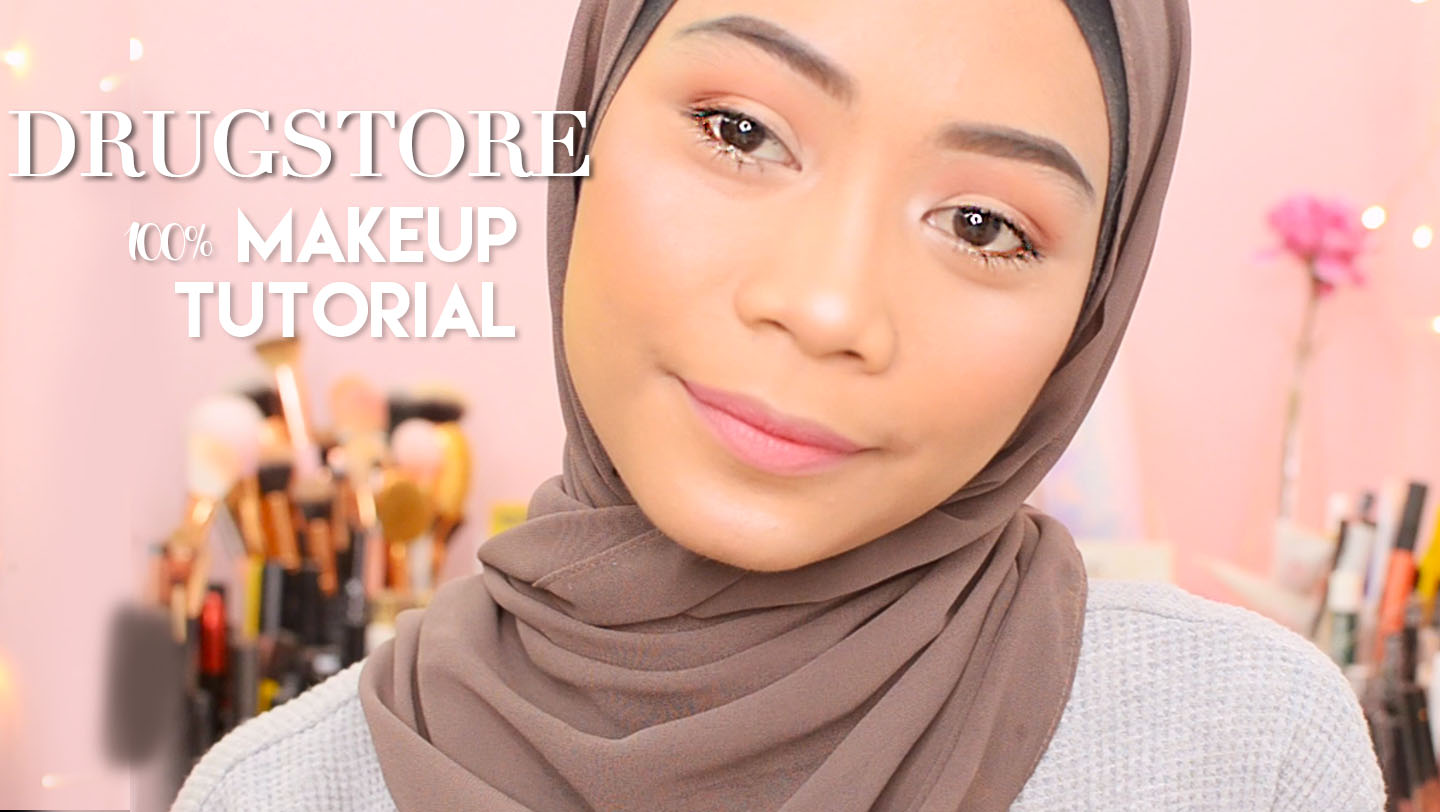 Hello guys, as per requested, below are the list of item used in the video together with the price and where to find them.
Before that, lets learn a bit about a definition of a drugstore product, as it seems like few people may be confuse with.
Drugstore makeup is basically a makeup that we can find at a drugstore department or having a price that is equal to drugstore level. Usually for a Malaysia, drugstore product is a product that is below RM100 price, then it can be considered as a drugstore product. But, dont get it wrong, a drugstore product does not mean that the quality is not good, some drugstore product are of a great quality.
For example, Maybeline, Loreal, NYX. In fact, in some countries such as the Europe, Morphe brand are also a drugstore product because they are cheaper in the country but for Malaysian, when imported together with the Tax and the Shipping, it will cost a buyer almost RM200 which is no more a drugstore product for Malaysia but for the Europe they consider Morphe as a drugstore brand.
That is all, I hope this article explain the confusion. Happy Makeup! :D
1. Makeup brush
12pcs Medium Brush from Csmakeup.my l RM69/set
https://www.csmakeupmy.com/products/12pcs-medium-brush-set
2. Moisturizer
SIMPLE Moisturizer from Guardian l RM26.40
3. EYEBROW
Silkygirl Slim Brow Pencil code 02 from Watson l RM20.61
http://www.watsons.com.my/expert-brow-slim-liner-02-1-s/p/BP_66456?text=silkygirl%20slim%20brow&page=0
4. CONCEALER
Maybelline Fit Me Concealer from Watson l RM25.11
http://www.watsons.com.my/fit-me!-concealer-camouflant/p/BP_21595?text=maybelline%20fit%20me&page=0
5. POWDER
IN2IT Cover Smooth Loose Powder from Watson l RM 17.19
http://www.watsons.com.my/cover-smooth-loose-powder/p/BP_56953?text=IN2IT%20POWDER&page=0
6. EYESHADOW BASE
NYX Eyeshadow Base from NYX Store in IOI Putrajaya l RM25
https://www.nyxcosmetics.com/eyeshadow-base/NYX_016.html?cgid=root
7. FOUNDATION
Maybelline Fit Me Foundation in code 230 from Watson l RM39.92
http://www.watsons.com.my/fit-me!-matte-poreless-liquid-foundation/p/BP_16554?text=MAYBELLINE%20FIT%20ME&page=0
8. EYESHADOW PALETTE
NYX Lid Lingerie Shadow Palette from NYX Store IOI Putrajaya l RM59
https://www.nyxcosmetics.com/lid-lingerie-shadow-palette/NYX_406.html?cgid=eyeshadow
9. CONTOUR
Catrice Contour and Highlight Palette from Guardian l RM19
10. HIGHLIGHT
Catrice Contour and Highlight Palette from Guardian l RM19
11. BLUSHER
IN2IT Blusher in code 04 from Watson l RM19.71
12. MASCARA
Silkygirl Big Eye Mascara from Watson l RM26.91
http://www.watsons.com.my/big-eye-mascara-black-1pc/p/BP_69542?text=silkygirl%20mascara&page=0
13. LIP
NYX Soft Matte Lip Cream from NYX Store in IOI Putrajaya l RM33
I mix between Istanbul and Stockholm
https://www.nyxcosmetics.com/soft-matte-lip-cream/NYX_007.html?cgid=lips
14. COLOR SWITCHER PAN
Csmakeup.my Color Switcher pan l RM19
https://www.csmakeupmy.com/products/color-switcher-pan--dry-clean